Weaker ABS employment numbers out today has sent the $AUD a cent or so lower. Conus has analysis and comment on the numbers:
Weak jobs data but Qld bucks the trend
However it was Victoria this month which threw up a shocker with
this comment
from the ABS:
The largest absolute decrease in seasonally adjusted employment was in Victoria, down 12,600 persons, driven by a statistically significant decrease in full-time employment of 26,900 persons. The largest absolute increase in seasonally adjusted employment was in Western Australia, up 3,800 persons.
Weakness in Victoria isn't a shock as it appears more vulnerable for a few reasons. The trend which remains broadly pervasive is weaker full-time employment compensated by increases in part-time.
In Queensland the decline in full-time employment over the past year has been all male, although this has been trending up in more recent months against the national trend. The decline in the participation rate over the past year is also pretty much all male.
The monthly aggregate hours worked numbers have come in for more attention in recent times and have been featured in the post this month at MacroBusiness:
Australian jobs shocker in detail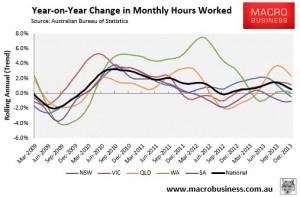 That is Y-o-Y change and clearly something of a rollercoaster in Queensland in recent years! If anything the states seem to be now showing some convergence on this measure at a rate too close to zero?
Another chart worth a look is from ACTU economist
Matt Cowgill
who does some good stuff to break down the extent to which the decline in the participation rate can be attributed to an ageing population. His opinion is that this was so for a period to an extent but no longer so much:
Regional data next week and will watch on 'boys v girls' employment in FNQ and 'Brisbane v Bush' in Qld. Too early in the year yet to keep an eye out for refugee Victorians arriving on our footpaths in their caravans!
Update: An interesting post from Queensland Economy Watch on this months data:
Qld jobs market remains sluggish – unlikely trend unemployment rate fell last month
. Also a graph laden post at
Grogs Gamut
.