Building approvals
data
for February was released this week by ABS. Macrobusiness has a good post on the growing trend to higher density residential in the capitals:
Have Aussies embraced apartment living?
"The latest dwelling approvals data, released yesterday by the Australian Bureau of Statistics, confirmed that apartment living is growing ever more popular across Australia, but particularly in Australia's larger and more expensive capitals. While house approvals are at recessionary levels, unit & apartment approvals are running near their all-time high."
"According to Commsec, 20% of all dwelling approvals are for apartments in a block of four storeys or more (i.e. high-rise), which also represents a new record high (see next chart)".
Macrobusiness have included a number of graphs including apartment approvals as a proportion of the total in each state: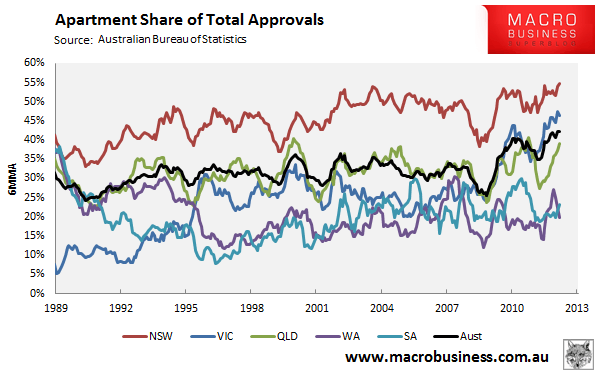 The strongest trend in recent times has been in Victoria. However this may also be one of the more vulnerable markets. Melbourne currently has a higher vacancy rate than the other large capitals. Queensland has been more volatile although activity in the Brisbane apartment market has been noted.
The proportion for Queensland is 37% for the 8 months to February. During the same period there were a grand total of two (2) dwelling units other than houses approved within CRC compared to 279 house approvals. I presume that is a duplex somewhere?
This is a graph of dwelling unit approvals other than houses as a proportion of the total for major Queensland regional and metropolitan LGA's in the last 8 months. I have also thrown in Darwin so to speak:
Cairns (CRC) trails abysmally in comparison to anywhere else. The overhang of stock from the previous boom - bust and cost issues such as strata insurance have clearly killed the sector despite declining vacancy rates. That position is not sustainable or healthy for balanced development.
Note: I did wander along to hear a political dissertation from Warren Entsch on strata insurance and will post some notes on that subsequently.
Update: Detailed examination of the SA2 level data reveals that the approved duplex was in Bentley Park!