With comparisons between Queensland and Spain still fresh the local member in Cairns has now posted on facebook, the prefered forum of uninformed opinion, a comparison with Tasmania.
The facebook post includes a
chart
comparison of general government fiscal balance for the states from the Audit Commission report. Ambit Gambit is the
blog
of Graham Young. Graham is a former vice-president and campaign chairman of the Queensland Liberal Party.
The obtuse pretense that Quensland's debt may have been a cause of unemployment in recent years is somewhat disturbing and without any supporting rationale. Loose Change will imminently be posting somewhat more wonkishly on 'The Spanish Question' with vain hope that it will be educational for some ...... with no confidence at all on that outcome however.
More disturbing is that in the blog post Graham Young relies on this graph in support of his Tasmanian comparison: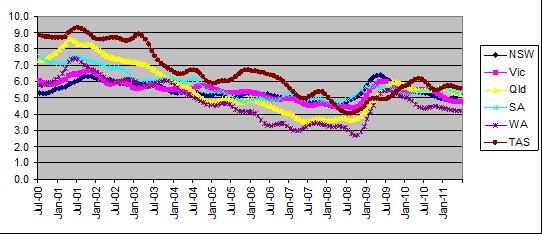 Keen observers of detail may note that the X-axis (along the bottom) appears to end in July last year? So lets update it with the most recent June 2012 ABS unemployment data charted by
Mark the Graph
:
Ah yes, now the comparison is clear! If the lines and legend are somewhat opaque, Tassie is that one way up the top, in contrast to its usual geographic position. Queensland is the greenish dotted line just below Victoria and S.A, and one of those trending down. The ones down the bottom can be regarded as the anomalies of ACT, NT and WA.
Spain? Tassie? The geography is becoming confusing! Spain one day, Tassie the next?
Update: Zimbabwe tomorrow?